Membership Benefits
Why Become A CAE Member?
Becoming a member of The Committee for Academic Excellence means different things to different people. It's very personal and is different for almost everyone. Join the CAE or renew your membership today to:
Take an active role in the betterment of early childhood education
Share in the enrichment of the communities we serve
Network with well over 300 professional and educational resources with the recognition and distinction of being identified as a fellow CAE member
Benefit from the personal and professional enrichment services we offer, including reward or scholarship opportunities
Regardless of the reason you join, becoming a member does acknowledge that you share in the commitment to building a stronger academic foundation and are dedicated to empowering communities through higher levels of educational achievement, character development, professional collaboration and family involvement.
You Can Make A Difference
Membership is good for one year and is renewable on the anniversary of your gift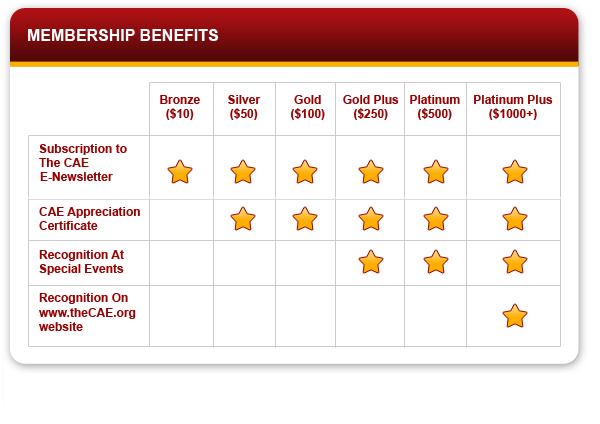 As an alternative to membership, you can choose to become a Sponsor! Sponsorship offers companies and individuals the opportunity to achieve significant marketing exposure. When you underwrite a program or name a facility at Kid's Community College®, you gain visibility, create promotional value and connect with your community. Sponsorship packages are tailored to meet your business needs and are designed with a variety of benefits. Sponsorship opportunities begin at $500. Call 813-689-6360 for more information.